Submit an RFP
Welcome to the AMC Institute Online RFP portal. If you are seeking the services of an AMC, you have come to the right place! Below you will find articles and resources to help you with understanding your RFP needs, as well as links to the different submission portals.

If you are still curious about what an AMC could do for your organization, click here to find out more about the benefits of using an AMC.
If you are a volunteer leader or a consultant assisting an organization to obtain the services of an Association Management Company, we have resources especially for you to use prior to submitting an RFP or an RFI. Want to learn more about an RFI vs. and RFP? Find additional RFI reading here. 
Are you unsure about whether to use an AMC for full service or outsourced services? Check out this resource to help answer that question.
Once you are familiar with the resources and guidelines that we have provided, you may use our online tool to post an RFP through the AMC Institute website for full-service management or outsourced services.
Taking time to work with your Board/governing body on preparing your RFP before it is posted is important. Many organizations develop a search committee to help oversee the process. It is vital to be able to share your current situation and where your organization is headed. If you would like to view suggestions on the search process for an AMC, reference our Recommended Search Process Steps information.
AMCI's RFP program is comprehensive and designed to facilitate an easy, quick, and smooth process in finding the perfect AMC to fit your needs. The more information you provide about your organization, the higher quality proposals you will receive, and the less time you will spend vetting questions. The RFP program was created by AMC owners and guides you in providing all the necessary components an AMC will need to formulate a proposal. 
Ready to get started?
Follow these easy steps to get started.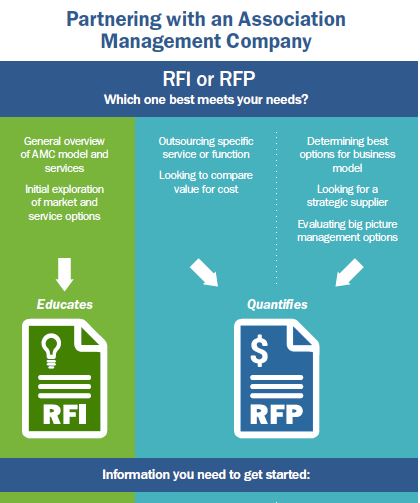 Still unsure if submitting an RFP is right for you? Why not consider submitting an RFI instead? Here you will find Criteria and instructions for submitting and RFI for you organization.
Please Note: We recommend allowing 21 - 30 days for AMCs to provide quality proposals for your organization. Please consider that in determining your submission deadline.

Once you have prepared all of the requested information and submitted your RFP, a member of the AMC Institute Headquarters staff will review it to ensure all of the required information is provided. Staff will respond to request incomplete or unclear information. If staff determines there are no modifications necessary, AMCI members will receive notification via email. Individual AMCs will contact you directly if they are interested in the opportunity. 
If you have any questions, please contact us at [email protected] or by calling 703-570-8955.