Discover More Cutting Edge Research 
AMC Institute, in addition to the proprietary research it commissions, curates relevant studies and surveys from a wide array of recognized sources. The findings provide additional insight and guidance to help association and AMC professionals make decisions based on both historic and predictive data and trends. 

Impact of COVID-19 on Mid-Sized Nonprofits
Independent Sector
On June 15, 2020, Independent Sector released the following results of a survey on the impact of COVID-19 on mid-sized nonprofit organizations. The survey illustrates that the pandemic and the resulting economic shutdown has had significant effects on the services, operations, and the people working in the nonprofit sector. READ MORE and download the below infographic HERE.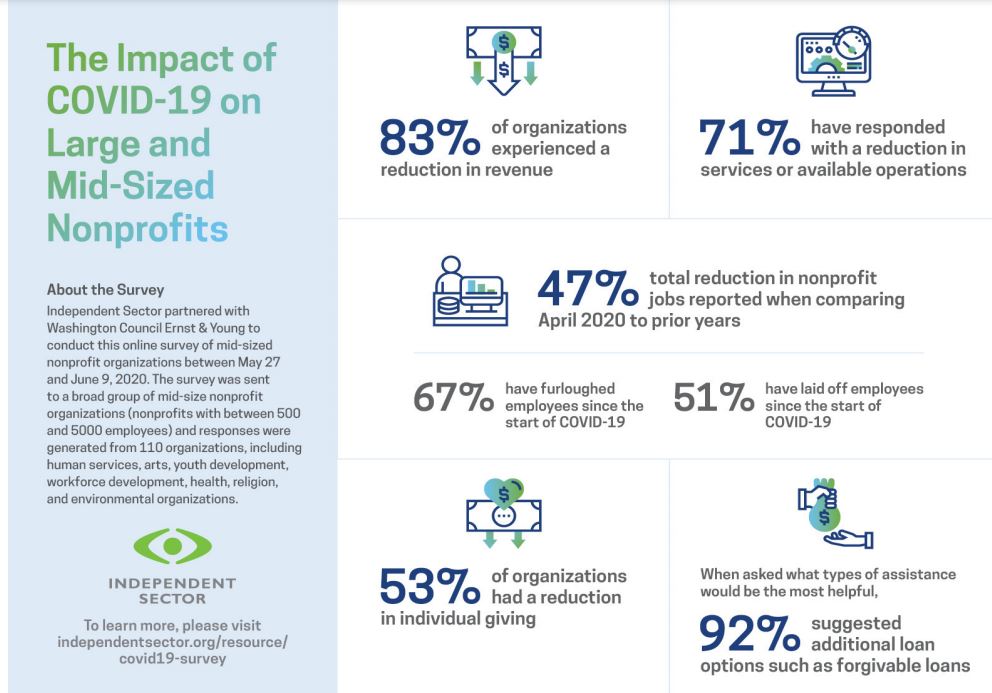 Bridging the Gap for Comms and Marketing
Content Marketing Institute
Throughout this global pandemic and the social unrest following the death of George Floyd movement, brands have had to communicate in a thoughtful way and still be effective. PR professionals have been responsible for crafting everything from press releases to statements on social media, all while adapting their earned media strategies and campaigns. To that same end, marketing teams have had to churn out effective owned and paid media. READ MORE


B2B Content Marketing – Benchmarks, Budgets, and Trends
Cision CMO Council
When COVID-19 began to spread, marketers made quick adjustments to their content marketing strategy. At the time of the survey, many had responded swiftly by changing their messaging strategy and adjusting their editorial calendars; however, far fewer had begun to study how the pandemic influenced the customer journey—or how it affected personas. READ MORE
Driving Association Strategy and Operations 
McKinley Advisors and Association Analytics
Early in 2020, McKinley Advisors and Association Analytics partnered on a collaborative effort to explore the intersection of data and strategy, highlighting key trends and assessing practices across 180 association professionals in a variety of sectors and industries. READ MORE