RESET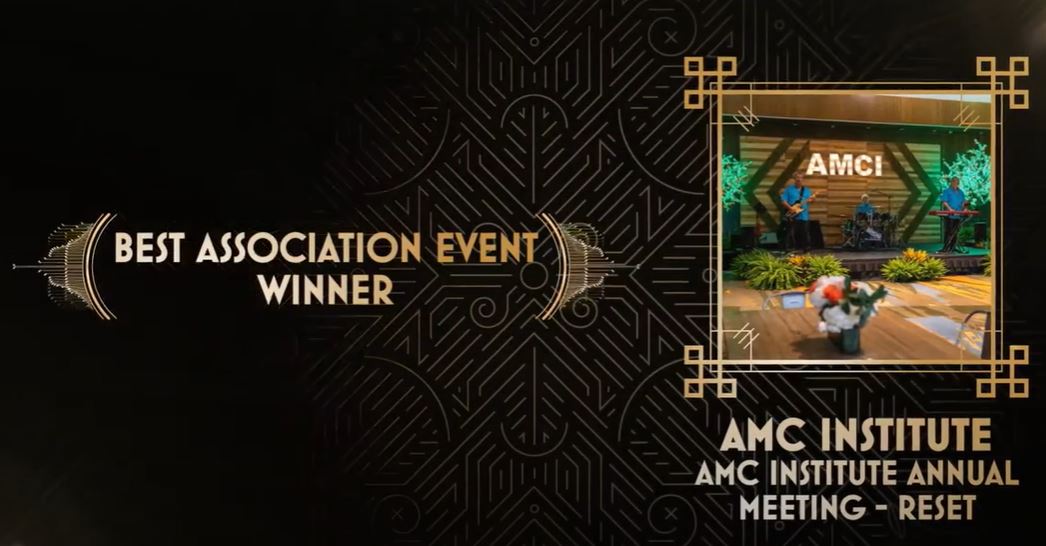 Awarded for the most innovative or effective live or virtual event (including galas, conferences, or receptions) planned for an association, AMCI is proud to the recipient of BizBash's 2021 Event Experience Award for Best Association Event. Find out how the AMC community leading the return to in-person meetings at our June 2021 Annual paved the way for this recognition.
Although the balance of our 2020 events shifted to virtual platforms, the Institute wanted to take a leadership role in 2021 to support the members in finding the best pathway to gather in-person while keeping attendees healthy and safe. This meant AMCI would host the first completely in-person conference the Business Events industry held since the start of the pandemic. The Board made the decision to move ahead with two priority objectives - a safe and secure return to face-to-face meetings for the attendees and a documented educational guide for association event organizers.
To ensure the comfort of each participant, weekly communications were deployed to all registrants beginning the month prior to the event, all attendees were required to complete a health and safety waiver, fill out daily health screening questions via text message, receive daily temperature checks, and wear masks onsite. Throughout the event, attendees could access hand sanitizer, fresh masks, and individually wrapped materials. Food and beverage functions provided plexiglass dividers, ongoing staff testing protocols, single-use items, and extra meeting room sanitization, fully cleansed microphones between each use, additional buffet attendants to serve attendees, socially distanced seating, and outdoor seating alternative options during all meal breaks.
To provide the same level of programming our members had come to expect pre-COVID 19, content delivery was expanded and upgraded by launching High-Intensity Interval Training (HIIT) sessions to provide attendees with 10-minute microlearning on hot topics. This format proved to be so popular it has been incorporated into all future in-person, hybrid, and virtual events. Most importantly, throughout the three days, a video crew was on-site to capture real-time best practices, learnings, innovations, participant feedback, and new ideas for future events. The result, RESET , a three-part video docuseries, introduced an industry-leading education initiative focused on the safe and successful return to face-to-face meetings and events. RESET, along with supporting documentation, an Ask Me Anything webinar, and a 24-hour hotline to tap into AMC experts were implemented to support association executives to help mitigate the uncertainty and ongoing impact of the pandemic.
Our post-meeting survey found 98% of participants said the meeting met or exceeded their expectations and 90% felt motivated by participation. This was reinforced, when more than 100 association executives, planners, and industry suppliers participated in the Ask Me Anything webinar that was held two weeks after the conference.
Results also included:
80% of attendees to instigate enhanced F&B Safety protocols
65% to expand pre-event communications
60% to increase distancing in meeting room setups
53% to continue signed health waivers
AMC Institute is grateful to all our partners who made the event possible: Encore, Loews Portofino Bay, ALHI, Universal Orlando Resort, Loews Hotels & Co., MemberClicks, The Broadmoor, Visit Colorado Springs, Disney Meetings & Events, Orange County Convention Center, and Visit Orlando. A special note of thanks goes to our videography partner EPNAC, for the development and production of the highly successful RESET series which documented the on-site execution and post-event outcomes of this award-winning initiative.
Check out additional resources below: